PTE Coaching Classes in Gold Coast
At EnglishWise, we aim to help you excel in your PTE Qualifications by focusing on all aspects of your PTE training— speaking, listening, reading and writing.

is now available.
Your Best Choice for Online & Offline PTE Classes in Gold Coast
Are you aiming for a perfect score in your PTE qualification test but need support for your PTE training? Then look no further than one of the most trusted institutions in Gold Coast and across Australia— EnglishWise. As an expert in the field, we offer all our students high-quality, end-to-end solutions tailored to suit their learning goals. The PTE test, designed by the Pearson VUE, assesses your English reading, comprehension, listening, and speaking abilities. It is your first step towards learning, working, and thriving in an English-speaking country.
At EnglishWise, we are committed to helping students from all backgrounds, from those with little to no English-speaking experience to those with sufficient proficiency in the language. Our highly experienced trainers have strategically curated the PTE tutorials and modules to help our students make the most out of their English-learning experience. We offer one-on-one offline and online PTE coachings to assist you in improving your reading, writing, listening, and speaking skills. Enrol for one of our courses to fast-track your language learning in an efficient manner. Connect with us now to learn more about our courses.
What You Get At EnglishWise GOLD COAST
ALL PTE preparation materials (included in the course at no extra cost)
PTE Real Exam Simulation Software
5 Full Mock Tests Assessments Worth $200 (100% Free)
100+ hours of Coaching and Assessments
Unlimited Practice at Institute! Mon – Sun
Online PTE Practice software Access – 6 months
Personal and Private Feedback STRATEGIES + TECHNIQUES for All 4 PTE Modules
4 X 15 minutes Private Consultation with PTE Expert Assistance in booking PTE Exam
PROPER COMPUTER LAB FOR practicing Mock tests in Real exam environment
Advance & one on one feedback sessions in the lab included
PTE Online Coaching Classes Package
Payment gateway options (Visa, Mastercard, Stripe, Afterpay – 4 interest-free payments)
Our PTE Coaching Success Videos
Trusted PTE Training Institute in GOLD COAST
Why more people prefer PTE?
PTE is accepted for all Austrailan and New Zealand student visa and migration applications. It is used around the world with thousands of international academic programs accepting it. Also, there are a growing number of profesional associations in many different countries who require it for registraion and assesment.
PTE Academic is a 3-hour exam which is complete on a comuter in an official testing centre. The test examines a student's abitlity to communicate in the four major skills of Reading, Listening, Speaking and Writing through computer-based questions.
Our PTE Course page explains in more detail about the PTE Format. Don't worry, by the time you have finished our training you will be an expert. Understand more about either the Listening, Reading, Speaking and Writing part of the exam with our specific pages.
Why Join EnglishWise for PTE Training in Gold Coast?
At EnglishWise, we offer PTE training for all levels, from beginners to advanced. Enrol in one of our courses if you want to speak English like a native. Whether you opt for offline or online lessons, we will help you navigate your PTE learning process. Our strategically developed courses help you work on the different aspects of language learning based on your proficiency in English. We provide students with an all-inclusive programme that focuses on what matters: your performance on the PTE test day. In addition to the initial classroom training, mock tests and practice interview sessions, our teachers offer you constructive feedback, guidance and advice to help you prepare for the exams.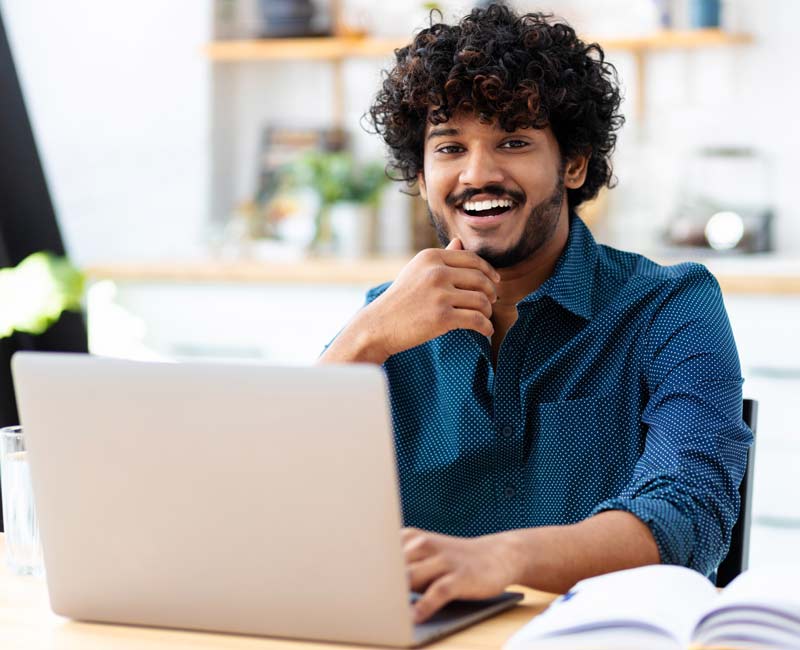 As non-native speakers, we understand that learning a new language can be challenging yet exciting. Our trainers at EnglishWise, have years of experience teaching non-native speakers who will be there for you at every step of the learning curve. And we are committed to making the experience an enriching one for you. No matter your proficiency in the language, we have a course specifically designed to help you achieve your goals. As English teachers with extensive experience tutoring non-native English speakers, we have curated the most common problems students face in their learning process. And we have carefully designed our courses to help students overcome them in an efficient and interactive manner. Here are the top reasons why you should opt for our PTE classes in Gold Coast:
Set your own pace & learn according to your convenience in a helpful and professional environment.
Get 10 Mock Tests worth $200 at no extra cost.
Check your progress by practising on our real-time exam simulation software.
Choose from a wide range of courses that suit your needs.
Get regular one-on-one feedback sessions with your instructors to discuss your progress and problem points.
Access to vast online resources to boost your learning experience.
Free trial and consultations for students to understand their needs and offer guidance.
For the test day to feel less stressful, we are here to make the preparation simple yet effective. We coach you through the practical skills that the PTE (Pearson Test of English – an integrated skills test) demands in order for you to study and work in any English speaking nation across the world.
The PTE tests you on English proficiency in:
Speaking Writing Reading Listening
We coach you on all the parameters, as follows:
Pte Scorecard of Our Students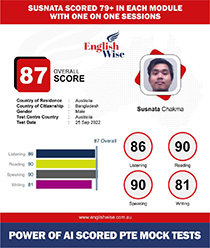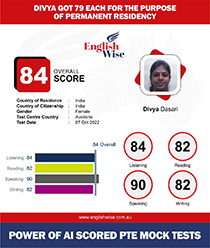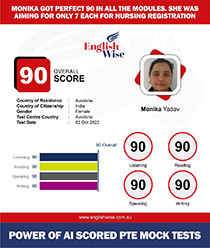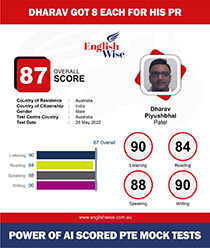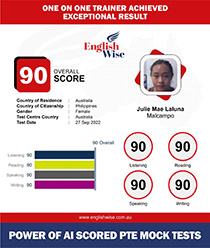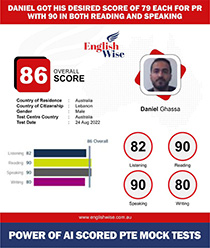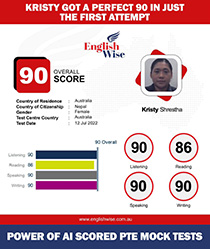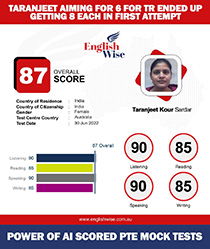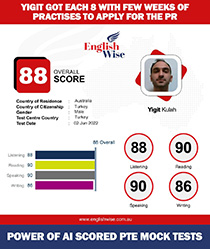 Get in Touch with EnglishWise Gold Coast