PTE Coaching Classes in Melbourne
Get highly strategic and effective PTE Coaching from professional teachers that suits your study and work needs perfectly with EnglishWise.

is now available.
Your Best Choice for Online & Offline PTE Classes in Melbourne
If you are looking for PTE Coaching Classes in Melbourne that teach English as a second language and are dedicated to your continued success, your search ends here. EnglishWise is one of the most renowned PTE Training organisations in Melbourne. Our team of professional teachers understand the challenges associated with learning a new language and the feeling of achievement associated with learning it to perfection. And hence, we ensure that we pay attention to the individual needs of our students by providing them with one-on-one tutoring sessions and online PTE coaching. The PTE Qualification is essential to most job applications and university admissions. It helps you communicate in English confidently and fluidly with native speakers.
In our years working with students, we have identified the prime problem areas for non-native English speakers and developed our PTE tutorials based on these findings. Our modules are designed to help students better grasp the subject in a fun and effective manner. Our team of professional teachers make the lessons interactive, and they'll work with you on all aspects of your grammar, writing and speech, including pronunciation and vocabulary. Our PTE classes are aimed at helping you boost your personal growth by learning a new language. So, don't hesitate and reach out to us at the earliest!
What You Get At EnglishWise Melbourne
ALL PTE preparation materials (included in the course at no extra cost)
PTE Real Exam Simulation Software
5 Full Mock Tests Assessments Worth $200 (100% Free)
100+ hours of Coaching and Assessments
Unlimited Practice at Institute! Mon – Sun
Online PTE Practice software Access – 6 months
Personal and Private Feedback STRATEGIES + TECHNIQUES for All 4 PTE Modules
4 X 15 minutes Private Consultation with PTE Expert Assistance in booking PTE Exam
PROPER COMPUTER LAB FOR practicing Mock tests in Real exam environment
Advance & one on one feedback sessions in the lab included
PTE Online Coaching Classes Package
Payment gateway options (Visa, Mastercard, Stripe, Afterpay – 4 interest-free payments)
Our PTE Coaching Success Videos
Trusted PTE Training Institute in Melbourne
Why more people prefer PTE?
PTE is accepted for all Austrailan and New Zealand student visa and migration applications. It is used around the world with thousands of international academic programs accepting it. Also, there are a growing number of profesional associations in many different countries who require it for registraion and assesment.
PTE Academic is a 3-hour exam which is complete on a comuter in an official testing centre. The test examines a student's abitlity to communicate in the four major skills of Reading, Listening, Speaking and Writing through computer-based questions.
Our PTE Course page explains in more detail about the PTE Format. Don't worry, by the time you have finished our training you will be an expert. Understand more about either the Listening, Reading, Speaking and Writing part of the exam with our specific pages.
Why Join EnglishWise for PTE Training in Melbourne?
With our years of experience teaching the English language to non-native speakers, we are confident that you will find courses that align with your needs. Our courses are designed to enhance your speaking and listening abilities and improve your reading and writing skills in English. Alongside the course module, we will also provide you with extensive resources to ensure your success upon completion. We have also made provisions for mock tests and practice interviews during your PTE classes to see how far you have come in your learning course.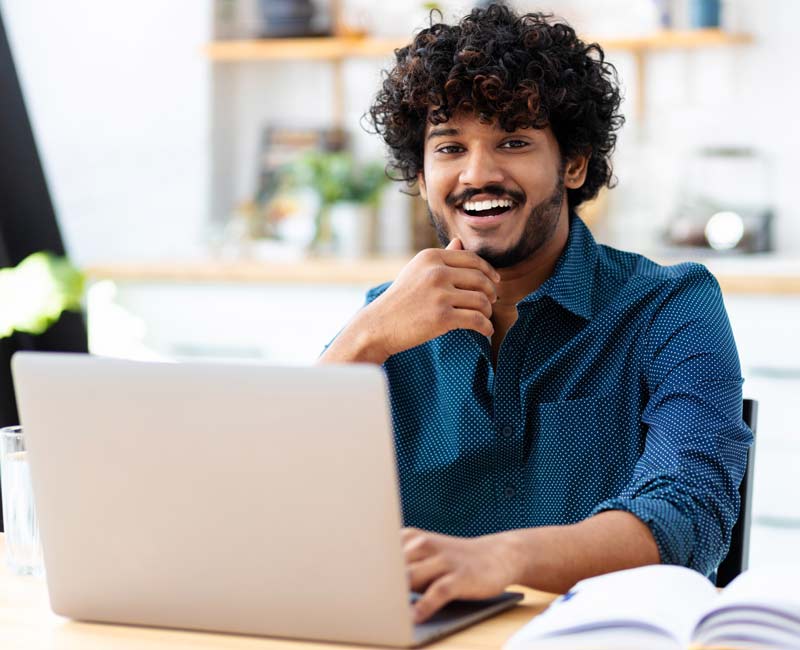 Over the years, we have earned our reputation as one of the most trusted PTE coaching centres in Melbourne and across Australia. We take pride in offering all our students PTE classes customised to suit their learning goals and needs. Our team of highly qualified tutors have extensive experience working with individuals from all backgrounds, such as students and working professionals. We work with you on all aspects of language learning, including reading, writing, listening and speaking skills. Here is what makes our online PTE coaching the go-to choice for students in Melbourne.
We offer students a wide range of courses they can choose according to their needs.
Students can opt for our consultation and trial classes to help us understand their goals.
All our students get free access to a set of 10 Mock Tests, worth $200.
Students have complete access to our vast supplemental resources and online study materials.
Our online practice software keeps track of your progress, assists you in working on your weak areas, and evaluates your overall performance.
We help students prepare for all four aspects of the PTE qualification, i.e., reading, writing, listening and speaking.
Our tutors offer students one-on-one feedback to help them identify the problem areas and help them work through them.
For the test day to feel less stressful, we are here to make the preparation simple yet effective. We coach you through the practical skills that the PTE (Pearson Test of English – an integrated skills test) demands in order for you to study and work in any English speaking nation across the world.
The PTE tests you on English proficiency in:
Speaking Writing Reading Listening
We coach you on all the parameters, as follows:
Pte Scorecard of Our Students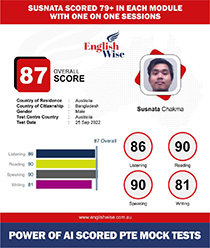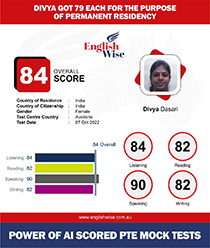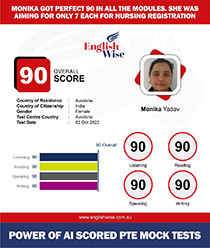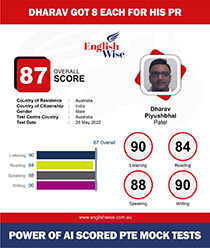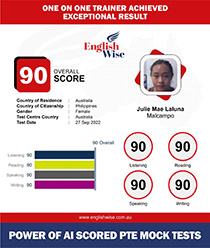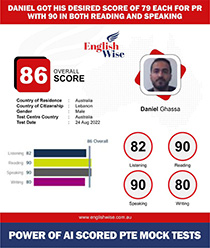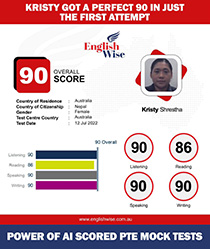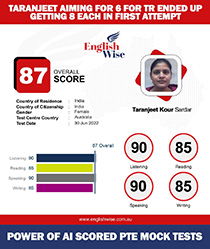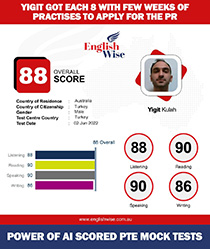 Get in Touch with EnglishWise Melbourne