PTE Coaching Classes in Sydney
Improve your English skills and obtain the confidence you need to succeed with the professional teachers at English Wise. Your results measure our success!

is now available.
Your Best Choice for Online & Offline PTE Classes in Sydney
Searching for the best PTE coaching classes in Sydney? You've come to the right place. The PTE exam is a globally recognised English language proficiency test accepted by over 90% of Australian universities. It is taken by international students who want to study in Australia or elsewhere. The exam assesses your ability to communicate in English and helps you improve your skills in reading comprehension, writing, speaking, listening and understanding the content of an academic text.
We offer courses from beginner to advanced levels and personalised learning plans at English Wise to ensure you get the most out of your study experience. Our expert teachers will give you one-on-one attention to make sure that you get the most out of your time with us. We provide all-inclusive packages that cover everything from classroom instruction to mock exams so that you can prepare in advance and focus on what really matters: your exam performance. Our program helps students pass the test with flying colours and gain admission into prestigious universities across Australia. So, if you want to improve your English skills and understand how to use them in your future career or personal life, why not join us today?
What You Get At EnglishWise Sydney
ALL PTE preparation materials (included in the course at no extra cost)
PTE Real Exam Simulation Software
5 Full Mock Tests Assessments Worth $200 (100% Free)
100+ hours of Coaching and Assessments
Unlimited Practice at Institute! Mon – Sun
Online PTE Practice software Access – 6 months
Personal and Private Feedback STRATEGIES + TECHNIQUES for All 4 PTE Modules
4 X 15 minutes Private Consultation with PTE Expert Assistance in booking PTE Exam
PROPER COMPUTER LAB FOR practicing Mock tests in Real exam environment
Advance & one on one feedback sessions in the lab included
PTE Online Coaching Classes Package
Payment gateway options (Visa, Mastercard, Stripe, Afterpay – 4 interest-free payments)
Our PTE Coaching Success Videos
Trusted PTE Training Institute in Sydney
Why more people prefer PTE?
PTE is accepted for all Austrailan and New Zealand student visa and migration applications. It is used around the world with thousands of international academic programs accepting it. Also, there are a growing number of profesional associations in many different countries who require it for registraion and assesment.
PTE Academic is a 3-hour exam which is complete on a comuter in an official testing centre. The test examines a student's abitlity to communicate in the four major skills of Reading, Listening, Speaking and Writing through computer-based questions.
Our PTE Course page explains in more detail about the PTE Format. Don't worry, by the time you have finished our training you will be an expert. Understand more about either the Listening, Reading, Speaking and Writing part of the exam with our specific pages.
Why Join EnglishWise for PTE Training in Sydney?
EnglishWise is a leading provider of PTE training in Sydney and across Australia. We have been helping students navigate their way through the English language for many years. Our lessons are tailored to suit your needs, whether you choose to take offline or online PTE Coaching from our centre. Our tutors are knowledgeable professionals who will be able to give you the best possible guidance and advice on how to prepare for the exam. They will guide you through each lesson step by step to ensure that you have a complete understanding of each topic. We also provide flexible scheduling options so that you can fit the lessons around your busy schedule.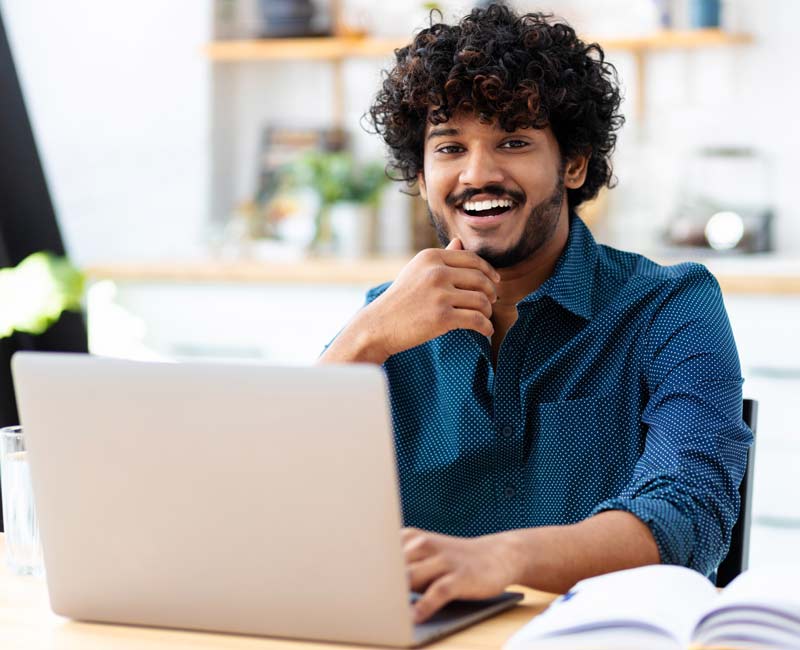 At EnglishWise, we have experience teaching students at all levels of English proficiency, so no matter where you are on your learning curve, we can tailor our lessons specifically to meet your needs. Here are some reasons why you should choose us for your PTE tutorials:
A Professional and friendly environment where you can learn at your own pace.
Offering 10 Mock Test Assessments worth 200$ (all-inclusive with no extra cost)
Practise on real exam simulation software
One-on-one feedback sessions to help you improve your skills
All preparation materials and resources included in the course
Learn from the best PTE teachers who have expertise in teaching English as a second language
Assistance in exam seat booking
For the test day to feel less stressful, we are here to make the preparation simple yet effective. We coach you through the practical skills that the PTE (Pearson Test of English – an integrated skills test) demands in order for you to study and work in any English speaking nation across the world.
The PTE tests you on English proficiency in:
Speaking Writing Reading Listening
We coach you on all the parameters, as follows:
Pte Scorecard of Our Students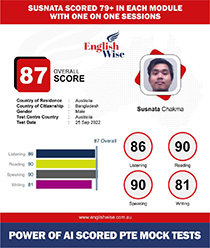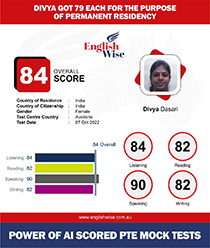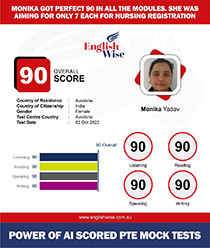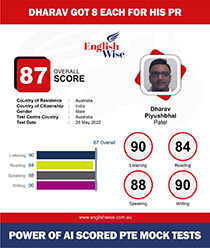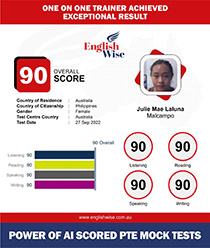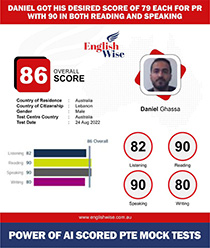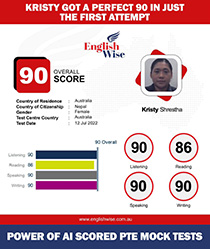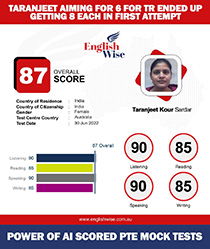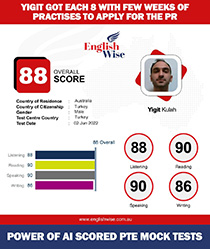 Get in Touch with EnglishWise Sydney